Skip to Content
Onsite Paintless Dent Repair at Grossi & Associates
It's happened to all of us. You return to your parked vehicle, and as you approach, your heart sinks when you notice a dent in the side of the car that wasn't there when you left it. Perhaps it was another car owners' carelessness when they flung their door open and hit your vehicle. Or an errant baseball that flew over the fence and found your car. Or even hail damage from a northeasterly storm. Whatever the cause, Grossi & Associates, Inc has the solution with Paintless Dent Repair (PDR) services that can smooth out the exterior of your vehicle for a lot less money than you think.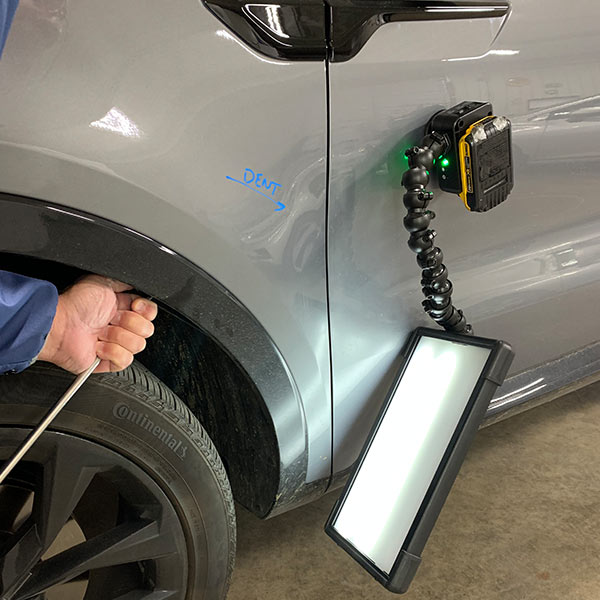 How Paintless Dent Repair Works
To achieve the absolute best results for our customers, we work hand in hand with a Master Paintless Dent Repair Technician. The process involves specialized tools to smooth out dents from the inside of the car body. It's an environmentally friendly process because it doesn't involve any sanding, painting, or other chemicals required for finish work. Many dents caused by blunt objects or force don't harm the paint job, leaving PDR the best course of action. Our technician will access the dent from the backside, usually from the interior of the body. We can do this by removing various parts such as side panels, taillights, or interior panels. Once we gain access to the dent and thoroughly examine its shape, we can use specialized tools to massage the dent, bringing the car's body back to its original smooth finish.
Contact Us to Learn More About Paintless Dent Repair
Car owners will often learn to live with a dent in their vehicle, even when it is not their fault. Sometimes they don't know how it happened or think that filing an insurance claim is more of a hassle than it's worth. Customers at Grossi & Associates, Inc are frequently surprised to learn how affordable and fast Paintless Dent Repair actually is. Fixing minor dents on your vehicle caused by car doors or hail storms will increase the value of your car and keep it looking new for years to come. Contact us to learn more about this excellent service today.