Skip to Content
Full-Service Paint Department
Full-Service Auto Body Painting in Beaver County, PA
Your vehicle's paint job does more than give your car a stylish appearance and fresh look. It provides a protective covering for the body. Without a clear coat, basecoat, and primer, the body of the vehicle is exposed to damaging UV rays, road salt, and water opening the door for rust to eat away at the metal. At Grossi & Associates, Inc, we offer comprehensive auto body services capable of everything from touching up minor spots to completely revamping the look of your car or truck. Using industry-grade paint and state-of-the-art technology, we strive to achieve an accurate color match and quality paint job on any make or model vehicle.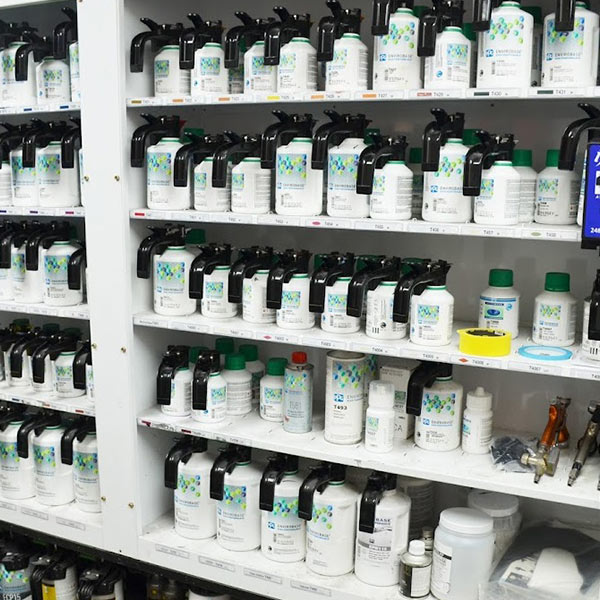 Incredible Results With PPG Paint Products
A professional paint job starts with high-quality paint. At Grossi & Associates, Inc, we use PPG Paints exclusively. These state-of-the-art products paired with the latest techniques and equipment by our team of professionals give vehicles a first-class, mirror-like finish. We use PPG's Envirobase Water Born Toner System, an environmentally friendly alternative to solvent paints, to mix any vehicle color code on-site from our fully stocked mixing bank. All of the paint mixing and application is completed right here in our shop.
Our Process for First Class Paint Jobs
Matching a paint color to your vehicles exact shade is no easy task. Our auto body paint shop is equipped with a toner system manufactured by PPG Paint to mix your vehicle's color code identically. So, what does our process look like for such fantastic results?
Dedicated Paint Bays
We have dedicated paint booths to create a controlled environment. Taking this step drastically reduces dirt from interacting with the paint and landing on the surface while regulating temperature to provide optimal conditions for paint refinishing.
PPG RapidMatch XI
Every vehicle's paint is scanned and analyzed with the RapidMatch XI. Utilizing the advanced technology of this purposed built color imaging spectrophotometer has increased our ability to consistently and accurately match your vehicle's paint color.
Basecoat Application
We apply an even basecoat that's an exact match of your vehicle's current color or a new color of your choice.
Clear Coat Application
Basecoat colors are then topped with a PPG clear coat that provides long-lasting base protection.
Curing the Paint
All paintwork is then baked at a temperature over 140 degrees Fahrenheit to cure the finish.
Limited Lifetime Warranty Vehicle Painting
In addition to using top-shelf products, we also offer a limited lifetime warranty on our finishes for complete peace of mind. To get the most out of your car's paint job, remember to wash your vehicle regularly and apply proper wax. Doing so will help protect the topcoat, avoid sun damage, and keep your car from rusting over the years.